Kroma Tower is located at the very heart of the Makati Central Business District. Situated in the Legaspi Village and along Dela Rosa Street, Kroma Tower fully assumes the cultural urban district of a bustling metropolitan city. Its working address is Dela Rosa Access Road 3, Legaspi Village, Barangay San Lorenzo, Makati City.
Being at the center of an urban zone, Kroma Tower is within walking distance to schools, hospitals, and numerous business establishments. As a matter of fact, two of the major hospitals in the Makati district, such as the Makati Medical Hospital and the Ospital ng Makati, are just 0.2 km and 0.8 km away, respectively.
Schools, universities, and colleges are also within reach. Within the proximity of the Kroma Towers are the following educational centers: Don Bosco Technical Institute, Far Eastern University, Assumption College, DLSU Graduate School of Business, Mapua Institute of Technology, Asian Institute of Management, and the Ateneo Graduate School of Business. Working while studying is a breeze for those who live in Kroma Tower.
There are churches and places of worship that are very accessible from the Tower as well. The nearest ones are the Greenbelt Chapel, Union Church, Don Bosco Church, and the St. Andrew Parish Church. These places are less than a kilometer away, except for the St. Andrew Parish Church which is 1.7 km away. Practicing your faith while living in a condo unit will never be a problem.
For those who want to shop, there are at least three malls near the Kroma Tower: Greenbelt Mall, Glorietta Mall, and SM Makati Mall. These malls are just 1.5 km away or even less. Furthermore, there are other leisure areas are  nearby. For one, the Ayala Triangle Garden is only a kilometer away. Two well-visited museums, such as the RCBC Museum and the Ayala Museum, are just 0.3 and 0.5 km away, respectively.
The other places of interest that are near the Kroma Tower include a police station and a fire department. As for transportation, NAIA Terminal 3 airport is approximately 7 km away while the Edsa MRT station is only 2 km away.
There are plans of building pedestrian and sidewalk improvements within the area, too. The integrated pedestrian walkway network will link key establishments around the Makati Central Business District, and the residents of Korma Tower will have full access to it. There will also be a Bus Rapid Transit System to be built near the tower in the near future.
Kroma Tower is nestled in a transit-oriented area with an integrated basement  for parking purposes. Moving in and out of the place is a jiffy, although there's no need for long travels as everything you need to live comfortably and luxuriously is just around the corner. What's more, the Kroma Tower is slated to take advantage of the Ayala Group sponsored Makati Redevelopment Plan that is estimated at 20 billion pesos. Unit owners can expect more infrastructure developments from the Ayala Group soon.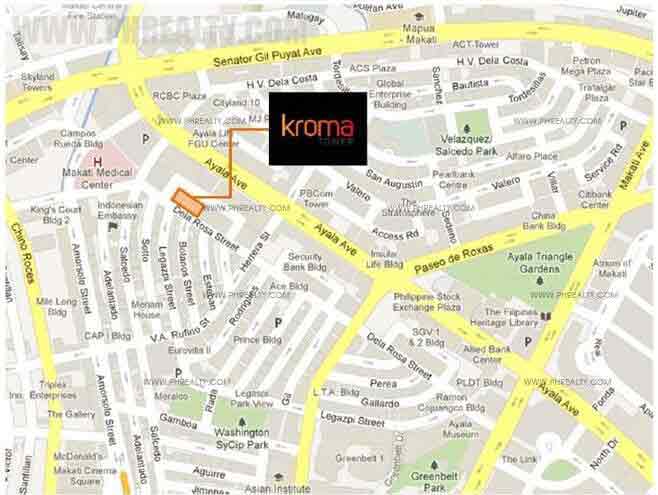 Located at Dela Rosa St., Legaspi Village, Kroma Tower is situated at the very heart of the Makati Central Business District. It is conveniently minutes away from the Makati Medical Center and the De La Salle Graduate School of Business. It also in close proximity to well-known educational institutions such as, Assumption College San Lorenzo Village, Don Bosco Technical Institute at Amorsolo Street, The Far Eastern University at Malugay Street, Mapua Institute of Technology at Gil Puyat Avenue, Ateneo Graduate School of Business at H.V. Dela Costa Street, and the Asian Institute of Management at Paseo de Roxas Street Moreover, It is in close proximity to near by malls and leisurely activities such as Greenbelt Mall, Glorietta Mall, SM Makati, and the Ayala Triangle Garden. For
Pedestrianization Improments
Sidewalk Improvements
Bus Rapid Transit System